Special diffuser sheets board for LEDs lights
Specification of light diffusing pet sheets board 2mm 1mm 3mm etc therforming type for blister / Advertisement / Packing /Printing / Protect application etc( Certified manufacturer by SGS )
Material: PET/PETG/Polycarbonate
Thickness: 0.15mm-15mm. for example:2mm, 3mm

Sheet standard size: 1220*2440mm/1000*2000mm/1250*2050mm/2050*3050mm
4ft*8ft, OEM
if roll,
without core Length: 30m, 60m.for roofing or separate easy cut

with core length: depends normally 50kg per roll, for therforming

Width: 1.22m, 1.56m, 1.82m, 2.1m. Max 2100mm
Color: transparent color., acid blue, grass green, milky white, or as your request
surface : matte, glossy, embossed,
if have extra demand, for example, anti-light, anti-fog, Scratch-resistant coating,Light diffusing etc, please let us know directly,
Above is conventional. They can also design according to the request from customers.
surface: matte, embossed, anti-reflection,Diamonds etc or as your samples,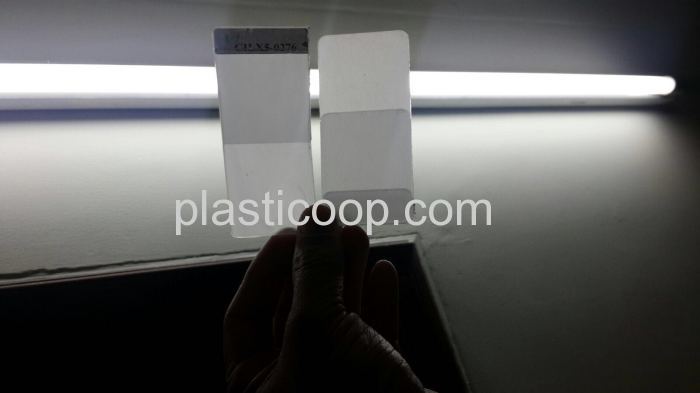 Packing:
Outer package: waterproof craft paper
Inner package: PE film--demand for flat sheet, rolls not need ,
Last package: Pallet
Welcome to ask more details about plastic sheet!
Jessie Chen
(IMP. & EXP. DEPT.MANAGER)
------------------------------------------------------
Changzhou Jinlibao Plastic Co., Ltd
No.5 Qingjiang Road, Changzhou, China
Tel: 0086-0519-83889089
Fax: 0086-0519-83889079
Mobile&whatapp: 0086-159-6122-1007
Skype :czjinlibao
Typical Uses
-Bus shelters
-Poster protection
-Displays
-Bus Shelters (UV Version)
-Machine Guards
-Price tag holders
-Dispensers
-Shelf Dividers
-Poster Protections
-Flat or thermoformed machine guards
-Transparent Covers
-Lids & trays
-Containers for food contact & pharmaceutical applications
-Components for toys & games
-Cycle helmets
-Greenhouse glazing
-Alternative to glass
-bathroom screen
Usage outerside:
1 Industrial workshop, warehouse glazing
2 Sports stadiums roofing
3 Parking cover
4 Public building glazing
5 Corridor roofing
6 Sound barrier
7 Terrace
8 Kiosk
9 Carport
10 Greenhouse
11 poster board
12 Others
Dear Client, if you have any suggestion and questions, welcome to contact with our sales, thanks,
light diffusing pet sheets board 2mm 1mm 3mm etc therforming type